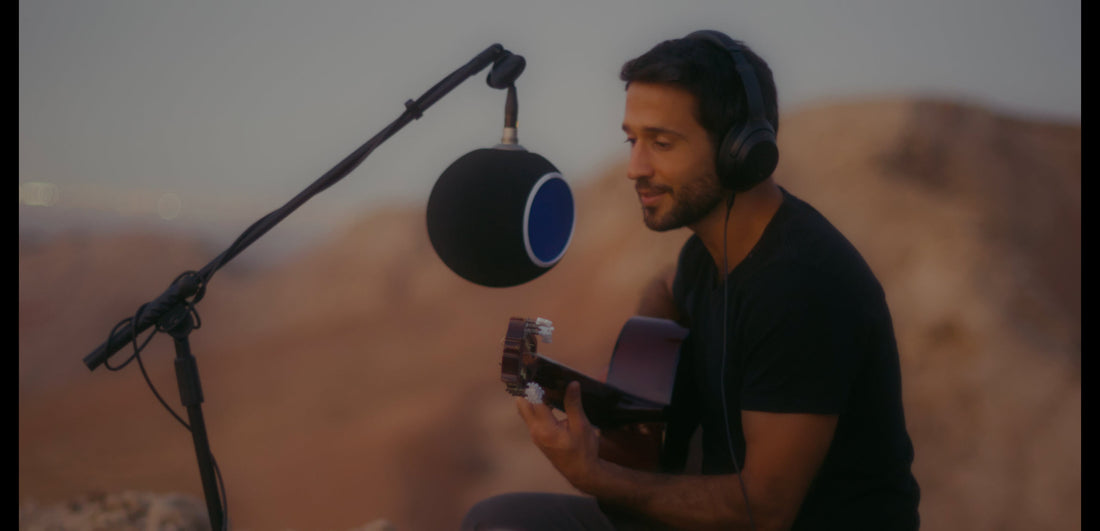 Mountain Recording Session
Scaling New Heights: Darius Homayoun's Mountain Recording Session with the Kaotica Eyeball
Music has the power to transport us to different places, emotionally and imaginatively. But what if the place of recording is itself a part of the musical journey? This notion was beautifully encapsulated when Darius Homayoun recorded his song "Richmond" on top of a mountain overlooking the desert in Dubai.
Pushing Boundaries with the Kaotica Eyeball
Creating music should never be confined to the four walls of a traditional studio. With the Kaotica Eyeball, artists like Darius Homayoun can break these barriers and make the world their studio. Trekking up a mountain for over an hour, Homayoun and videographer Sam Falconi reached the perfect ledge for an incredible recording session.
The Kaotica Eyeball, invented by Konrad Zukowski, makes this all possible. This revolutionary device encloses a microphone, creating a mobile studio-quality environment that effectively isolates the microphone from external noises.
Recording "Richmond" Amidst the Elements
Recording "Richmond" atop a mountain in the heart of Dubai was no small feat. Dealing with the desert wind and other ambient sounds could be a recording nightmare. But with the Kaotica Eyeball, Homayoun successfully isolated his voice from these distractions, capturing a recording of astounding clarity.
The desert's sweeping winds and natural echoes could have overwhelmed the song. However, the Eyeball's sound isolation and acoustic treatment properties allowed Homayoun to turn this challenge into an advantage, creating a unique recording that captured the essence of the surroundings.
An Extraordinary Journey, An Extraordinary Song
The desert backdrop and the journey to the mountain top provided an extra dimension to the song "Richmond". It was a remarkable fusion of music and environment that offered a unique recording experience. With the Kaotica Eyeball, the quality of the recording wasn't compromised, despite the challenging conditions.
This is the power of the Eyeball: to make professional-grade recording possible in any environment. From a mountain top in Dubai to a rooftop in Barcelona, the Kaotica Eyeball is changing the face of music production and helping artists realize their creative visions without boundaries.
In conclusion, Darius Homayoun's mountain recording session is an inspiring example of how innovation like the Eyeball is transforming the music industry, helping artists like Homayoun reach new heights—literally and figuratively—in their creative pursuits.